Kemppi is the design leader of the arc welding industry. They are committed to boosting the quality and productivity of welding by continuous development of the welding arc. Kemppi supplies advanced products, digital solutions and services for professionals from industrial welding companies to single contractors.
"Zure has a down-to-earth, hands-on attitude with zero unnecessary sales hype or gimmicks. With open discussion and dialogue, all challenges have been sorted out quickly. What was promised has been delivered."

Jani Kaukiainen, ICT Manager, Kemppi
Challenge
Kemppi has a multi-cloud strategy to ensure the best outcome for all stakeholders. As their internal IT ecosystem relies on Microsoft's technology stack, Azure and the synergy benefits it offers were a natural choice for the company. After using Azure for almost ten years, Kemppi's environment remained as it was built in the early to mid-2010s. Their processes and ways of working with the cloud needed to be upgraded.
It was important for Kemppi to not just migrate current datacenter resources to the cloud. All relevant resources were to be modernized using the newest technologies.
Kemppi IT had found themselves in a situation where they could not manage their own Azure environment independently of external vendors. For example, they were depending on their cloud vendor to change Azure landing zones for every development task.
Goal
Training their own IT department and ensuring their own in-house capabilities was the most important goal for Kemppi. It was crucial for them to gain more knowledge in order to rightsize and only pay for the right services and solutions. The aim of the cooperation with Zure was to build a partnership that would help Kemppi to update their processes and ways of working while simultaneously helping with the migration.
Kemppi aimed to standardize their cloud infrastructure, making it easier to manage, maintain, and scale. The consultancy cooperation with Zure was also needed to prepare Kemppi for detaching from the on-premises data centers and help them align with Zure's best practices and Microsoft Cloud Adoption Framework for cloud security and compliance, reducing the risk of security incidents and ensuring that their cloud infrastructure meets all relevant requirements.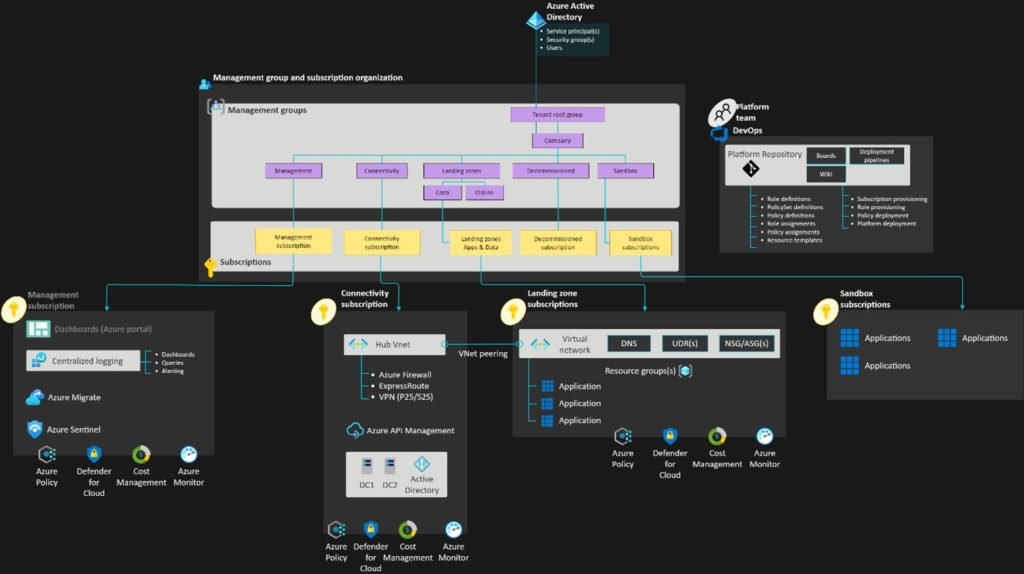 Implementation
The cooperation started with a series of Azure infrastructure workshops. The workshops focused on training, and planning Kemppi's environment and infrastructure. Kemppi was going through an ERP renewal simultaneously with the migration. The overlapping of two major projects has been enabled by their Azure environment.
The previous Azure environment was left as is, and a new environment was built for migrating from on-premises data centers to the cloud. Some existing solutions were migrated as lift-n-shift, but the main focus was on ensuring Kemppi's own abilities to modernize applications used in their production with Azure's platform as a service (PaaS) components. This would help Kemppi empower themselves and their own capabilities, update their infrastructure, and futureproof their business.
As a first PaaS modernization project, a new data platform was built by a third-party provider. Zure built the initial infrastructure for the data platform and trained the data platform provider to run and edit the infrastructure.
Zure has onboarded Kemppi's experts to use Infrastructure as Code (IaC) practices to help them automate the provisioning and configuration of their IT infrastructure, making it easier to manage, version-controlled, and scalable. IaC enables Kemppi to treat their infrastructure components as code and manage them in the same way they manage software applications. Now Kemppi is able to manage their IT infrastructure in a more efficient, scalable, and automated way. Using IaC, they can improve the speed, quality, and reliability of their infrastructure delivery, making it easier to support their business goals.
The deployment of Azure DevOps was also done for the entire development lifecycle, from planning and tracking work to delivering software. This provides Kemppi with an end-to-end solution for continuous integration and continuous delivery (CI/CD) and enables them to take advantage of their cloud to speed up and automate the delivery of high-quality software. The whole Azure DevOps environment and toolchain were built by Zure's consultant guiding Kemppi's experts every step of the way so they could learn by doing. Kemppi has implemented enterprise-scale landing zone with IaC and CI/CD approach also the solution development projects use this approach.

Microsoft provided partial funding to plan enterprise-scale landing zone architecture for Kemppi. The enterprise-scale architecture will help Kemppi to scale their cloud sustainably. The landing zone covers centralized services such as monitoring, security, hub-and-spoke network, subscription structure, Azure policies, tagging of resources, and identity and access management and responsibilities.
Challenges during the project
The project and the cooperation have run smoothly. Open communication and dialogue between Kemppi and Zure's experts have guaranteed an agile and timely project where all that has been agreed upon has been delivered. The effect of the scarcity of resources in the field was minimized with good planning and flexibility.
"Zure has a down-to-earth, hands-on attitude with zero unnecessary sales hype or gimmicks. With open discussion and dialogue, all challenges have been sorted out quickly. What was promised has been delivered."

Jani Kaukiainen, ICT Manager, Kemppi
Achieved benefits
Zure's experts have trained and educated Kemppi's own IT experts and internal stakeholders. This has helped Kemppi to make more informed purchase decisions when buying external IT services. The initial goal of training their experts to guarantee optimal in-house capabilities and results was reached during the cooperation.
The cloud capabilities are now in use and Kemppi has an excellent foundation for growth and future challenges. Cloud adoption has also influenced the work culture at Kemppi and enabled improved possibilities for hybrid work. For example, Kemppi's 3D designers are no longer tied to devices at the office but can work from anywhere. This is appreciated in the global environment that Kemppi operates.
"Zure has trained our own experts and even third-party provider's experts. The cooperation has worked extremely well."

Jani Kaukiainen, ICT Manager, Kemppi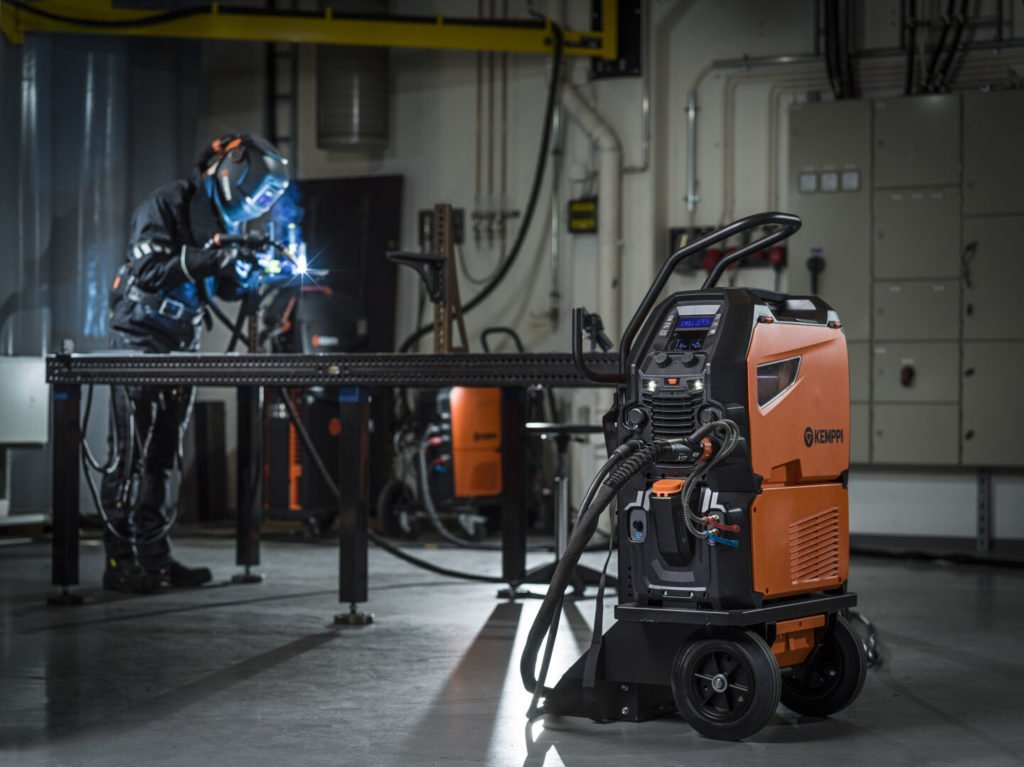 Plans for the future
The groundwork has been laid and Kemppi's foundation for future challenges is strong. The goal for this year is to finalize the migration. After the migration, the focus will be on continuous improvement and services. During the migration, Kemppi will more specifically investigate which kind of continuous services it wants to outsource and which can be done in-house. Thanks to the cooperation, they now have better capabilities to make these kinds of decisions to support their business.
"With Zure, we have felt that they always have our best interest in mind and the goal is to build the best possible solution to fit our needs and goals."

Ukri Hokkanen, CIO, Kemppi
Our role
Kemppi has been incredibly happy with the cooperation with Zure. They have a fresh experience from another type of cooperation that they felt did not help them reach their goals in the long run. For them, it was crucial to enable their own experts to gain knowledge and be able to learn by doing the work themselves. Kemppi has been able to define which tasks they wished to be done by Zure and which would be done by their own experts.
Zure's consultants have been listening to the customer and aiming to serve their needs in the best possible way. This has meant workshops, training, building infrastructure, deploying DevOps and even training third-party vendors.
"Working with Kemppi has been a wonderful journey. Their IT experts are a sharp crew and I continue to be astonished by their ability to learn and adopt new technologies. Kemppi's managers are open to new ideas, feedback and give autonomy for experts to come up with the best technical solutions to business challenges. It is a joy work in a trusting environment like that."

Aleksi Autere, COO, Zure