"We found Zure to be the designer and implementer of our new mobile app. It has been a pleasure to work with Zure's experts. They are committed, knowledgeable and forward-thinking. I'll gladly continue our co-operation with Zure."
Janne Lehtomäki, Concept owner, Warehousing, Valmet
Valmet is the leading global developer and supplier of process technologies, automation, and services for the pulp, paper, and energy industries. Valmet aims to become the global champion in serving our customers. Valmet's 14,000 professionals around the world work close to customers and are committed to moving Valmet customers' performance forward – every day.
Goal
The goal of the project was to design and implement an easy-to-use, mobile, and ERP-integrated progressive web application. Warehouse workers needed a way to search, receive, put away and pick items as well as do cycle counting and print label stickers without paper and without reaching out to a desktop computer.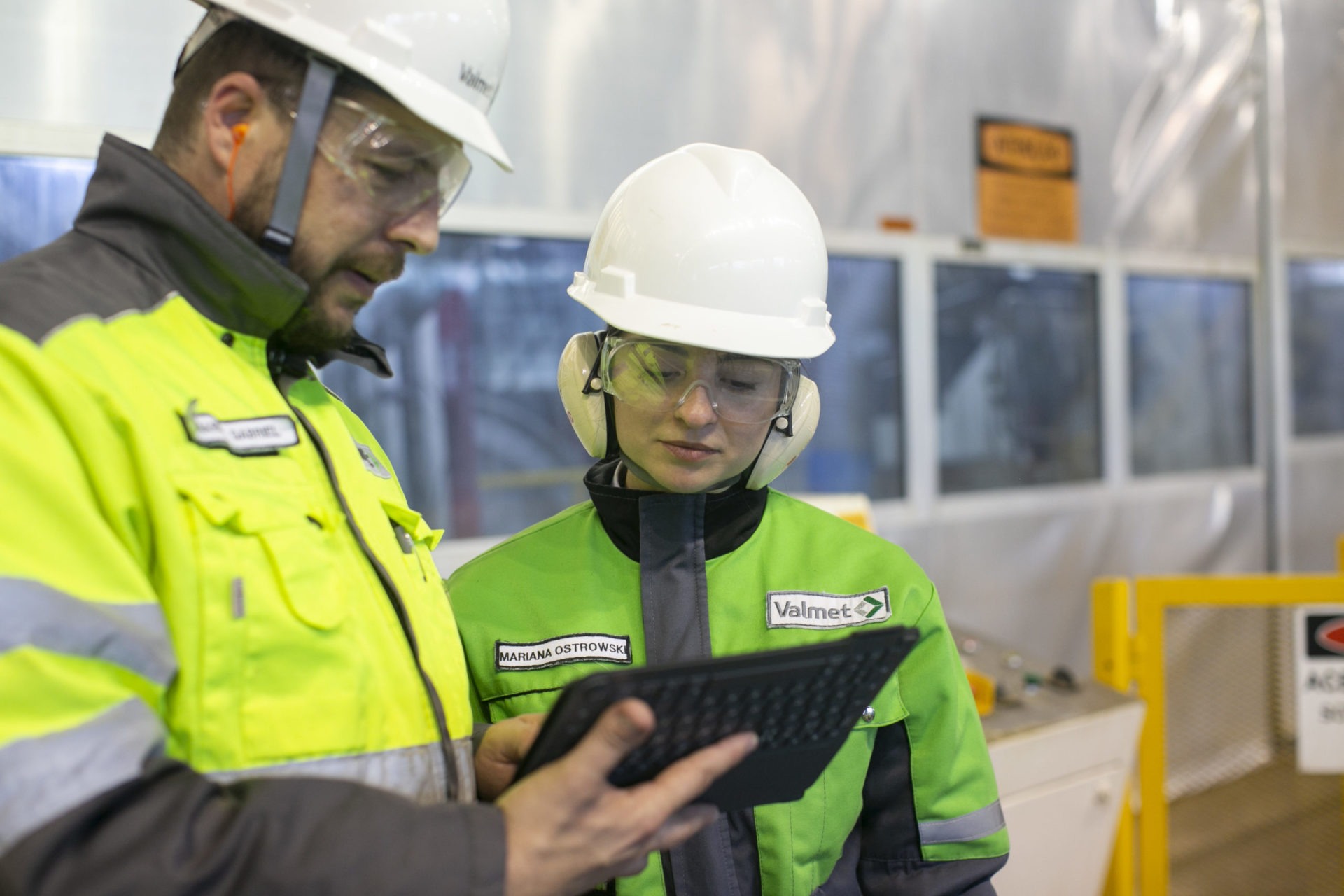 Problem
Valmet has been rolling out a new ERP system and during the rollout to warehouses, a new need emerged. It turned out to be a challenge to satisfy the needs of warehouse workers with the ERP-system mobile capabilities. Valmet selected a custom-developed mobile application or a progressive web application (PWA) to be the most suitable solution to answer the warehouse workers needs. An analysis showed that a low-code solution was not a credible solution for the business domain with complex business logic.
As part of the Valmet ERP renewal, we noticed needs related to modernizing the digital supply chain and tooling for logistics and warehouse operators. We needed a driven and trustworthy partner to design and develop modern mobile business apps for us, and then we found Zure.
Implementation
Valmet is currently investing in digitalization and business transformation. At the heart of the transformation is Valmet's new ERP and its surrounding systems. Zure helped Valmet to digitalize their supply chain operations by designing and implementing a new ERP integrated progressive web application for logistics and warehouse operations. The application is built with the latest mobile technologies and runs on Azure, utilizing serverless capabilities that enable unimaginable scalability and performance as well as cost-efficiency. The data integrations to and from the ERP are implemented by harnessing the power of Valmet's Azure API management enabling fast development cycles. The development team finished the product in 30 two-week sprints with the help of a laser-focused and dedicated product owner.
Benefits achieved
With the application, Valmet has been able to start harmonizing its operating methods in warehouses. The time of warehouse workers in organizations implementing the ERP system has been saved from learning the ERP system, as the process can be done in a streamlined way via a mobile device. Organizations that used the ERP system in the past have received a lot of help in operational efficiency, as complex product transfers are now handled through the application at the touch of a button. Inventory errors are reduced in data management, through the application, the warehouse worker no longer manually enters data or records information on pieces of paper. Today, data entry into the application is mostly done by scanning product data from QR codes.
Results
The project is a great success. From the complex warehouse operating models and the ERP system's business logic, Zure and Valmet managed to get the relevant information and create an easy-to-use, mobile, and ERP-integrated progressive web application for warehouse workers.