"Zure has excellent knowledge of the Azure environment, and they handle projects with great professionalism. Zure has a very professional operating model for product development, and their experts have an enthusiastic can-do attitude."

Jani Hautaluoma, Senior business manager, Valmet Automation
Valmet Automation offers process automation solutions to various industries like process and energy industries. Valmet DNA Automation System is Valmet Automation's flagship product family that offers their clients like Manga LNG terminal and Kemira Chemicals' factory improved visibility and total control of their processes. Together with Zure, Valmet Automation extended the capabilities of the Valmet DNA solution to further improve the solution and offer endpoint monitoring and unparalleled advantages to their clients' logistics processes.
Challenge
Valmet Automation needed a system for controlling gas transfers outside the pipe network. There weren't any suitable ready-made applications available on the market, so Valmet decided to build their own solution. The product needed to be scalable, have top-notch security, and excellent data collection capabilities. Valmet invested in a new SaaS solution built on Microsoft Azure to offer their clients better visibility into transfer processes of liquefied natural gas (LNG).
Goal
Valmet wanted to build a system that offers their clients better visibility into gas transfers and helps them save time, effort and money while ensuring growth for future challenges. The product had to be easy for Valmet to sell and quick for their clients to deploy because it wouldn't require major initial investments. The product needed to offer better co-operation between various parties as well as improve efficiency and reduce emissions.
Implementation
Valmet Automation and the majority of their clients were already using multiple Microsoft tools and software, so Microsoft Azure was chosen as the platform for the new solution. Azure offered a seamless login experience to the new application in clients' own ecosystems which was an important feature for the new product. Together with Zure, Valmet built Integrated Operations platform (IOP) using Azure IoT and PaaS capabilities.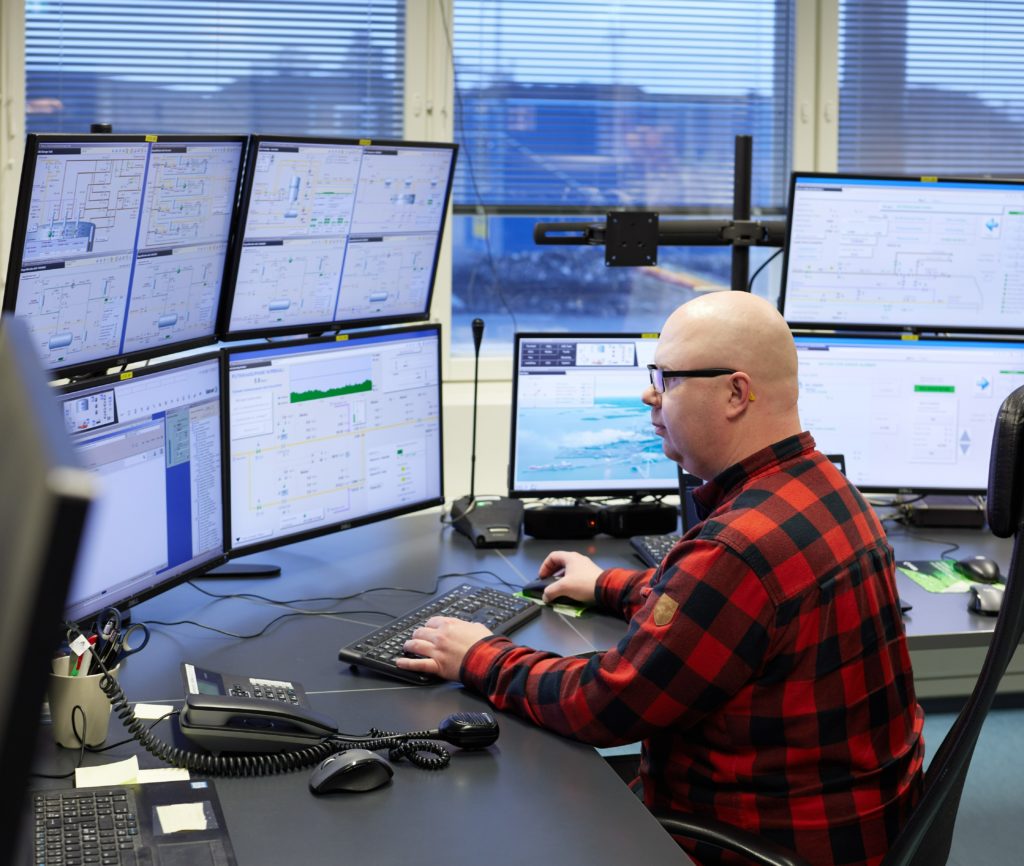 IOP is a multitenant SaaS solution for terminal and plant management as well as energy or chemical distribution information management. IOP capabilities include distribution management, terminal management, site management, asset management, storage forecasting, reporting & analytics, and administrative features like customer organization management, user management & device management.
Scheduling
Liquefied natural gas is gathered into large terminals and from there it is transferred either to industry clients via gas pipes or by truck or ship to various locations. The trucking companies that transfer gas from the terminal are also connected to IOP which means that the terminal no longer has to do logistics planning because the logistics companies are now doing the planning using Valmet's application. This is one example of how the solution reduces the workload of the terminal.
Scheduling plays a crucial role in cost saving and for maximizing efficiency. Transport companies book a loading time window to reduce waiting time at a terminal. When a loading time has been booked, the application can send driving instructions to the correct loading location to the driver.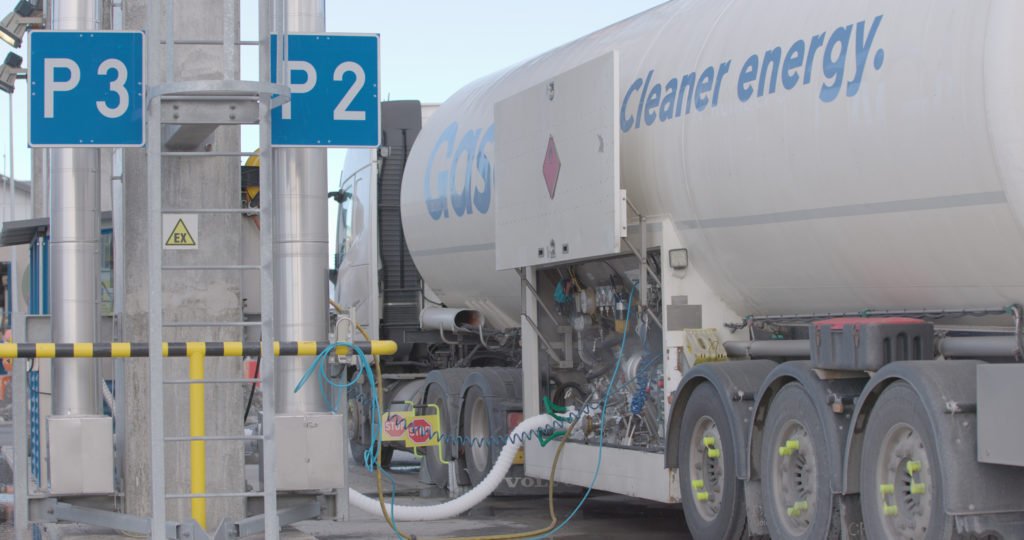 Data visualized in IOP is gathered from multiple diverse sources and brought to users in one centralized view. An example of a data source is a GPS tracker providing location data of an asset. Data sources can be equipped with Edge Gateway computers which are local data transmission gateways with Azure IoT Edge software. The solution isn't dependent on any specific IoT equipment because Azure IoT Edge can be used with various equipment.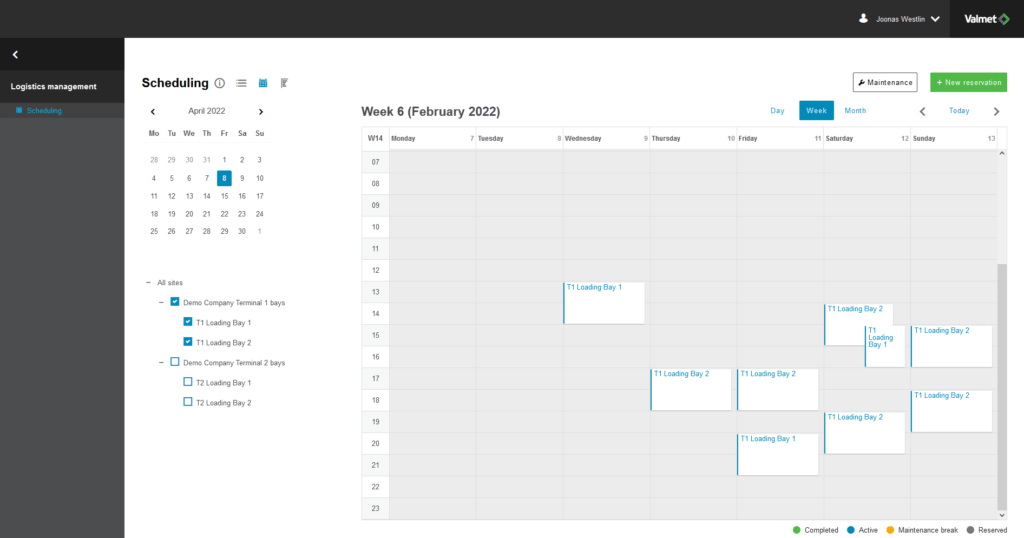 The browser-based system visualizes incoming and outgoing loads for users which improves safety and reduces waiting times for drivers. Terminal and transport companies are able to anticipate the use of loading bays. The solution enables fast, automatic, and secure transfer of information between the users of the solutions.
Identity & access management
The product includes Azure Active Directory based Identity and access management (IAM) to manage users and access rights. Users are given permission to use different modules of IOP.
Users use their Office 365 or Azure AD credentials to login to the application. Users can use their existing credentials instead of creating a separate account. This leaves the management of the customer users to the customer's administrators. Access rights are verified in the UI for usability reasons as well as on the API level to protect IOP's functionality. As permissions to use IOP are derived from customer organization, if customer user quits working for customer, this user is no longer able to use the application anymore, even if this user has not yet been deleted from IAM.

Achieved benefits
"The application has streamlined logistics in production and storage locations as well as in distribution. Clients say that unnecessary work has been reduced remarkably and efficiency has increased significantly."

Jani Hautaluoma, Senior business manager, Valmet Automation
IOP capabilities help Valmet's clients save time and effort and it enables fast, automatic, and secure transfer of information between the users of the solution. The solution can be implemented on a global scale, and it offers world-class security. On the other hand, IOP capabilities help Valmet make their Valmet DNA product more attractive to their clients.
Plans for the future 
This wasn't a one-time project and the work on the solution continues. The IoT platform will be expanded and its strategic importance for Valmet Automation and their clients will grow. Currently, the work is focused on endpoint monitoring.
Endpoint monitoring displays data on IOP gathered from customer systems, which provide measurement data like temperature, pressure, and tank level from endpoints like terminals, fueling stations and loading stations to IOP. With endpoint monitoring, it is possible to see the big picture of all fuel or chemical tanks in one view.
Our role
Building a comprehensive SaaS application is a demanding project that requires extensive planning and requires continuous dialog and co-operation between the customer and the supplier. The initial work takes a lot of time and effort and isn't necessarily visible to the customer so they can easily get frustrated. This project was a great example of well-functioning, agile teamwork between customer and Zure. Zure's team worked closely with Valmet Automation's product development and database experts as well as external quality assurance partners to guarantee the best results for Valmet Automation and their clients.
As the solution enables future growth and is planned to meet future challenges, Zure and Valmet continue to make Valmet's clients' everyday work even more efficient.
About the Customer
Valmet is a leading global developer and supplier of process technologies, automation and services for the pulp, paper, and energy industries. With our automation systems and flow control solutions we serve an even wider base of process industries.
We aim to become the global champion in serving our customers. Our 17,000 professionals work close to our customers and are committed to improving our customers' performance – every day.
The company has over 220 years of industrial history and a strong track record in continuous improvement and renewal. In 2022, a major milestone was achieved, when flow control company Neles was merged into Valmet. The combined company net sales in 2021 was approximately EUR 4.5 billion based on the respective company figures.
Valmet's shares are listed on the Nasdaq Helsinki and the head office is in Espoo, Finland.