This is part 1 of 3 of 'the first decade of Zure'.
The beginning of Zure
It was a dark and stormy night we decided to set Zure up (then Kompozure) with Sami.
It really wasn't. It was spring 2011, breezy and beautiful. I had worked as a developer and architect for 10 years, building software. I love building software. I was pissed off about something at my then job, and had the existential angst of a developer not being able to devote time to interesting things. Here, the interesting thing was Windows Azure, commercially launched about a year earlier.
Suddenly, like lightning from the clear sky, a thought: "What if there was a company that did interesting things in a way that wouldn't piss people (read: me) off?"
What a grand idea! Never heard before! Super unique!
So I called Sami, one of my best friends, and asked if he would be interested in trying something like this out.
Something about Sami, our CTO. When we met for the first time at the Turun Normaalikoulu, where we'd both moved to attend the high school of International Baccalaureate at the tender age of 16, Sami from Pori via a year in Texas and me from Kankaanpää, I was convinced we're practically the same person. Even if he's from Pori.
Nobody agrees with me, but I still think that. Sure, he's smarter than I am, and our verbal outputs differ, and there are some other superficial differences, but we're the same in our interests and values.
We've never really spoken about any of this. We hardly talk during the regular business hours either. I have meetings about marketing, sales, consulting, client meetings on projects, etc. but we have no set meetings for Sami and I, even though together we're the biggest owner of Zure.
Every now and then, one hears about business endeavors damaging friendships. The saying "don't do business with friends" exists for a reason.
However, if you have a friend with whom your values match, about whom you know that money will never be the reason to exist or the source of excitement, a friend you respect and know you can talk with during the difficult times (that will come) – you can have no bigger benefit than having that friend with you for setting up a company.
I rather take that friend than a million euros for starting the business. That million would be spent, but with the friend you can try to build something that is creating value long-term. Without a team you can trust, the company will be left mediocre.
The benefit of the correct cofounder(s) is high performance. We don't have set meetings with Sami, because we know each other's opinions without talking. Bureaucracies are slow due to the nature of committee-based decision-making. We want to be the opposite.
I personally believe in fast decision-making – right or wrong, doesn't matter. Wrong decisions can be fixed later, and only about 1 out of 100 decisions is wrong catastrophically (research into this is subjective). The thing here is, even if you try to always make the right decision, you cannot, but you'll spend a lot of time. Therefore, like the army saying goes, a fast decision with some basis is better than a slow but perfect one.
When I called Sami back in 2011, he was a member of the IT executive board at Tallink Silja, a large cruise ship company, responsible for their business-critical production systems. He was compensated fairly, and had a position he'd carved out to himself during 10 years at the company. He had autonomy and mastery over his field.
So on the phone, I asked him if he'd like to try to build a company focusing on Azure.
He said yeah. On the phone.
Zero consideration. Maybe he was bored, I don't know, but still – great news for me!
So we pooled our savings together and came up with 6030 euros, with the help of a serial entrepreneur friend. We decided to not pay salaries until we have at least one client and also, decided that I'd resign first, since I was about to do that anyway, and if everything goes to shit, I'll just move to Sami's to live there eternally reading Sci-Fi and watching Rick and Morty. Or, if lucky, my then girlfriend (current wife) accepts me as a favorite couch potato.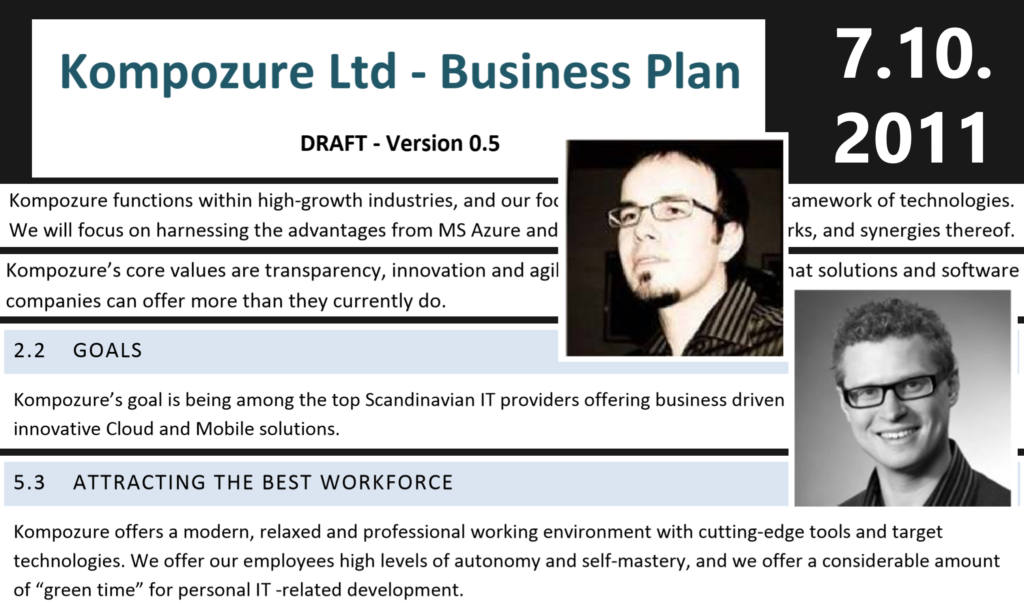 Parts of the original business plan written in 2011
The first customer
A couple of months later we got Lindorff as our first customer as a subcontractor via my old workplace. Sami resigned immediately, and after couple of more months we started paying ourselves 2000 euro salary. As a sidenote, I got parity with my previous job's pay at about 5 years of Zure, and Sami a year or so later.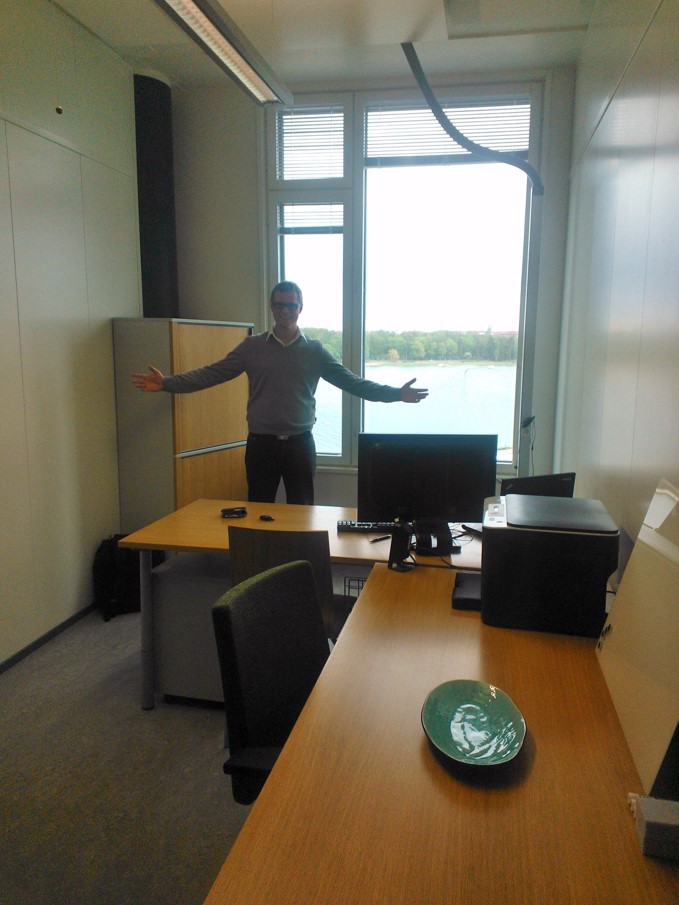 Zure's first office, Autumn 2011, at Aalto Startup Center at Technopolis Ruoholahti, with a complimentary plate by my wife when she saw the soullessness of our single room
At Lindorff we coded for a year or so, me first and then Sami. Lindorff didn't do Azure, nobody did. Nobody listened when we spoke about cloud services, nobody was interested. At an infamous meeting at a potential client in 2012 I had 8 people in the room, I spoke about Azure, and they worked silently on their laptops. No opportunities.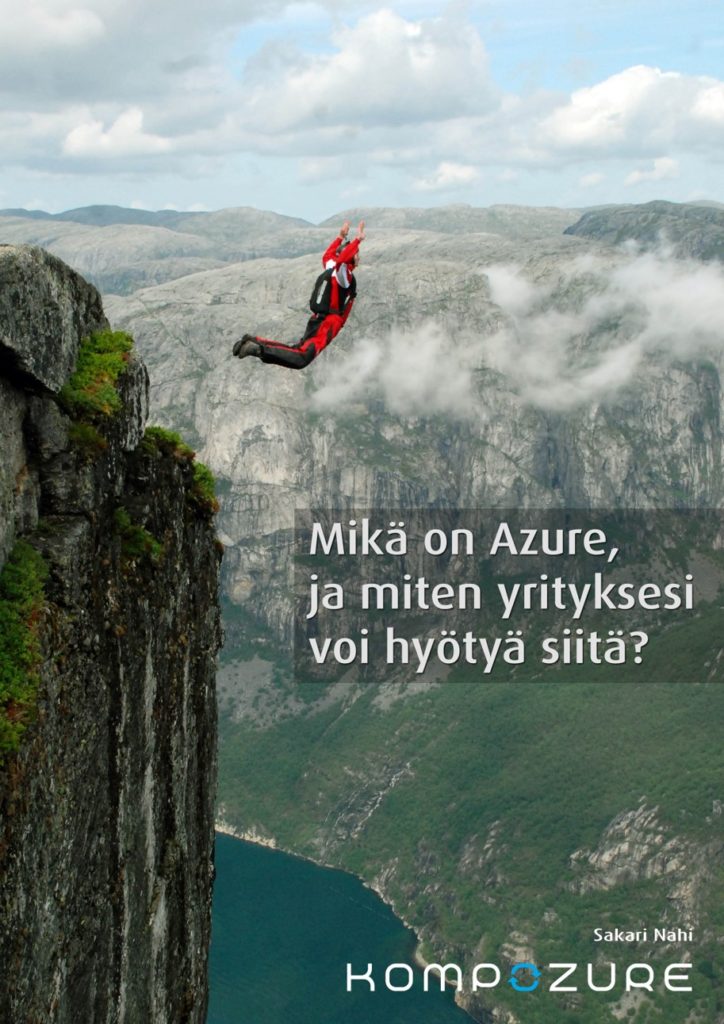 We wrote a 'What is Azure, and how can your company benefit from it?' -booklet in the beginning of 2012. It is very invalid now. Also, jumping from a ledge is scary.
The local Microsoft didn't really care about Azure those days, especially about PaaS. Azure wasn't on the scorecards, and even though it clearly was something Microsoft corporate was starting to bet on, it wasn't really a business then. Ballmer was still the CEO of Microsoft, and the latter years of his leadership weren't that successful, looking at the competition with the other innovators; Apple and Amazon. Microsoft wasn't even thought of as an innovator then.
Microsoft now is a different beast. Satya seems a value-driven, "infinite game" leader, and if 10 years back someone had said that Microsoft is the world's biggest contributor to Open Source in 2018, that would've been a joke. Microsoft has also been carbon neutral since 2012. Personally, I dig Nadella's raps in the keynotes of Build and Ignite (seen from video, never got to attend either event); his focus on accessibility due to his son's condition is one of the things that creates trust in me regarding Microsoft's long-term vision and values.
Our bootstrapped startup had some money by the end of 2012, 1,5 years after founding, and we started to think about hiring. I found Jarno at a sauna, when we had sauna together, because we're friends. That was easy. We offered him equity, and the same salary we had, 2500 euros or so then. He's still with us.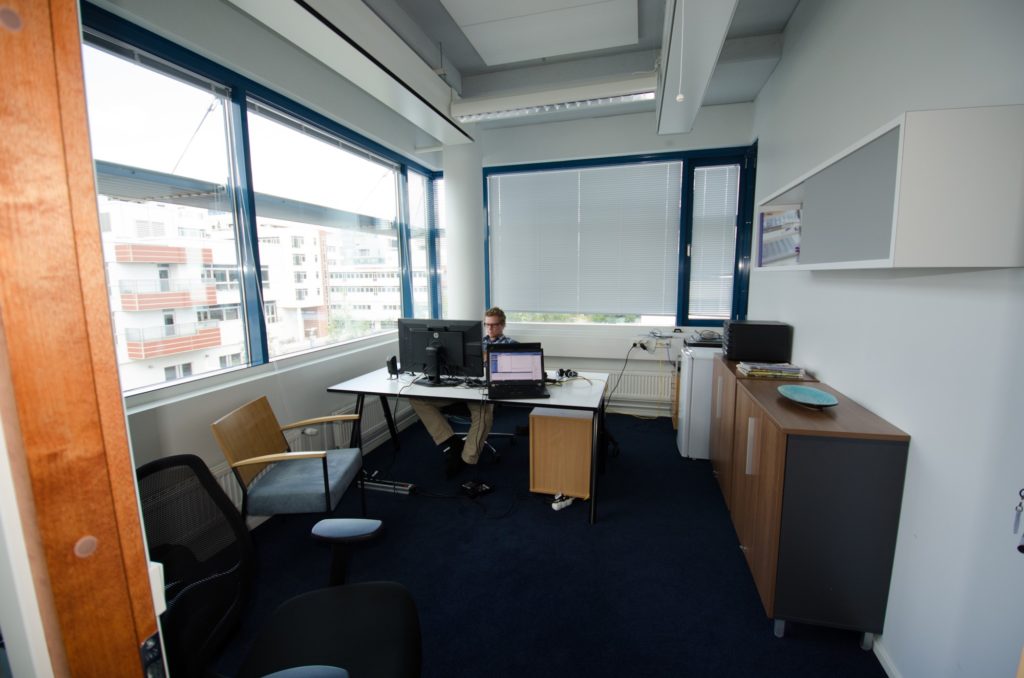 Our second office by the end of 2012 at Keilaniemi next to old Microsoft had more space, we had two rooms!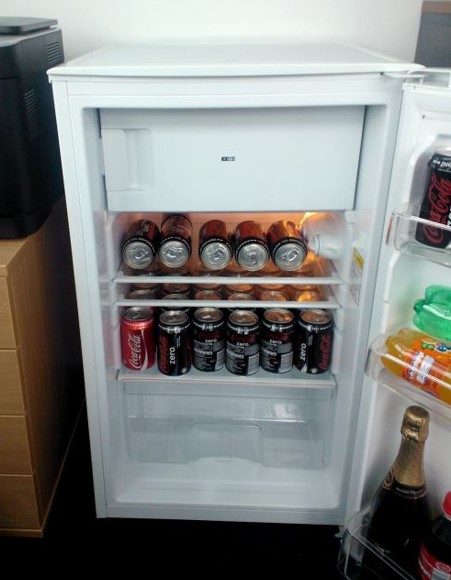 The second office had our first fridge! Zero coke! A big milestone!
At the same time, Markus, Zure sales director, approached us himself. We knew each other from my previous job, and he believed in the future of cloud computing. He still seriously maintains we were the most promising startup then, but that is hard to swallow, seeing we were a startup of two developers with no funding and a non-existent market. Still, here was a known sales professional with years of experience from the IT market willing to join us for a salary of 2500 euros… Thanks!
In all seriousness, I deem myself an okay judge of character, and even though I think I'm not half bad at recruiting developers, I had no expertise hiring sales people. I didn't think we needed a sales person as the 4th person in the company, but when Markus suddenly offered to join, a gentlemanly sales person with just the touch I wanted Zure to be known of, i.e. we don't push our services at any cost, now or in the future, it was too good to be true.
A lucky break, one of many, both with Jarno and Markus, who joined at practically the same time.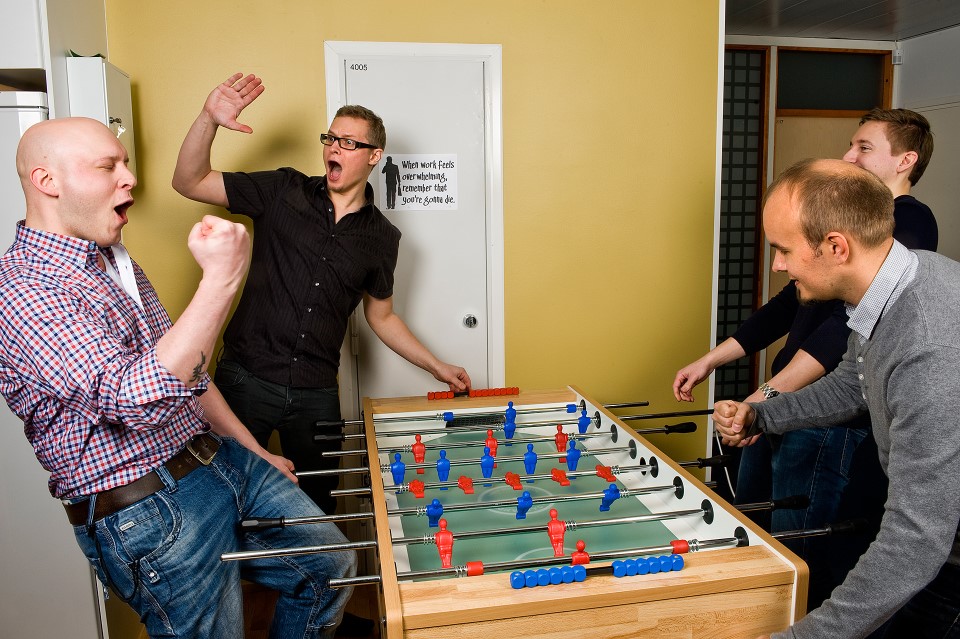 Zure at the end of 2012. Sami and I, we only had 1 goal in the beginning, and that was to get a foosball table. It is pretty much part of our culture still, looking at the amount of time the crew has spent on coding our 'foosball bot' handling the challenges, elo ratings, historigrams… I don't actually want to know the exact amount of time.
Thank you for reading! Read the next parts: part 2 and part 3.
Other related posts